News
AHSFHS.org strives to provide the most accurate information possible. If you can assist in completing missing information, join us in the forums or email dparker@ahsfhs.org.


Twenty-seven schools participated in the first tournament held in the Magic City of Birmingham from February 23-25, 1921. The games were held at and was sponsored by the Birmingham Athletic Club the first two seasons. In 1923 the AHSAA was formed and took control of the tournament bringing it to Montgomery until the spring of 1927 when it was moved to the University of Alabama in Tuscaloosa.

Central High School of Birmingham won the first tournament and would later change their name to Phillips after being split into several new schools. Barton Academy was on the losing end of a close game and ironically would later become Murphy High School in 1927. Central defeated Springville 22-20 in the semi-finals while Barton Academy beat Alliance of Birmingham 24-20 in two closely competitive games. It was only Alliance's second defeat in four years.

At nine o'clock in the Saturday night finale, the house was packed and the stage was set for what was called at the time 'Alabama's Greatest Tournament'. A fitting climax was the contest between Barton Academy and Central. The Crimson played well in the first half and led 14-6. In the second half Barton rallied and actually led for a while before Anderson for Central took control of the game with his dribbling and shooting to ensure the win for Central. Anderson along with Bill McKinney, W. McKinney and Walsh for Barton were selected to the All State team following the game. It was Barton's first defeat of the season.

The second year of the tournament saw forty-one teams show up in Birmingham in the Spring of 1922. Chambers County, later LaFayette, waltzed through the competition to win the championship and lay claim to a state title.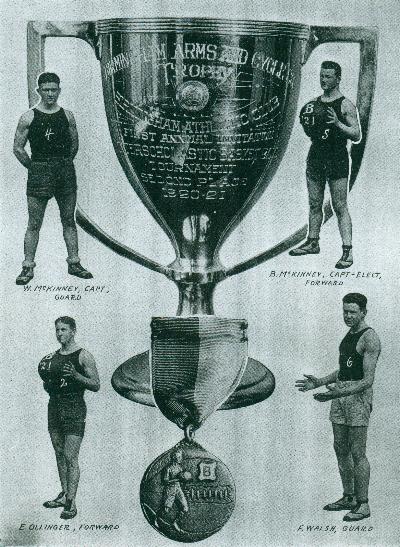 Barton Academy yearbook photo with the second place trophy.

Some records may be incomplete. We have chosen to publish this information in hopes our visitors will participate in assisting us to complete every school.
Join us in the forums to submit corrections and new information.
Great Moments in Alabama High School Basketball History

Francis Marion defeated North Sand Mountain 112-105 in the highest scoring game ever in the tournament.